This past week my buddy Will and I ventured up through central California to visit fellow Bottomfeeder friends.
Dennis Lanni treated us to a great lunch in Sacramento, rumored to be a favorite European eatery of former gubernator, Arnold Schwarzennegar.
Also checked out a property nearby that I'm foreclosing on for a friend. Interesting that the trust beneficiary-now–owner-of-record has fenced the front porch area and padlocked the entrance gate, making door knocking a challenge (unless you're willing to climb over the gate railing). I wonder if they understand that they'll never get help unless someone can talk to them. I've never found a lock that my #3 bolt cutter couldn't zip through at eviction lockout time, of course.
On to Truckee. What's in Truckee? My friend Sean O'Toole, Founder and CEO of PropertyRadar (formerly Foreclosure Radar) moved his corporate headquarters there a while back and call this exquisite mountain town near Lake Tahoe home.
We had lunch at the beautiful Ritz Carlton Hotel near Northstar ski resort. A fantastic lunch and superb staff (what would you expect?).
I was impressed as this was my first tour of the business operation. I'm also a subscriber and truly appreciate how much work they do in creating a data research platform that is so easy to use and thorough.
The drive home Saturday was not without incident, however. Just prior to reaching the Donner Summit on I-80, my Porsche Cayenne Turbo last power and caused us to pull off the road.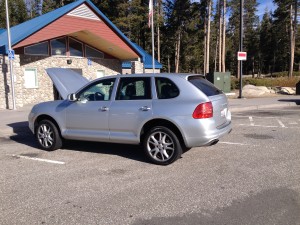 Never one to miss the irony, I posed for Will in front of the plaqiue commeroratinmg the Donner Party (remember the people who were stuck and turned cannibal one winter?). We had exactly one small banana to share and, despite Will being a year older, he's in better shape as I'm slower and fatter.